For music clips and more details: see the website: www.EnchantedAprilthemusical.com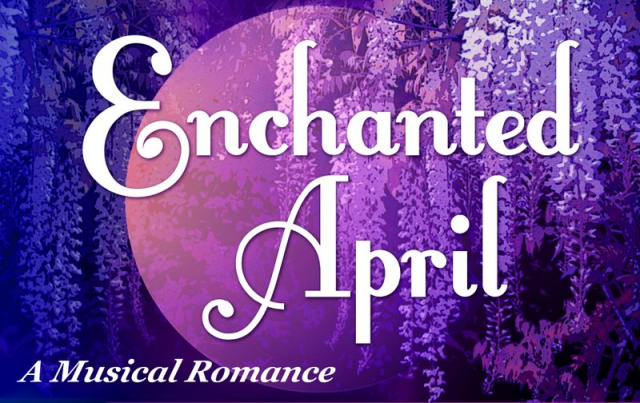 Music and Orchestrations by
Richard B. Evans
Book and Lyrics by
Charles Leipart

It's a cold and rainy, post-war-London, February, 1922. In the London Times, a small classified ad appears:
"To those who appreciate Wisteria and Sunshine: To let for the month of April - a medieval castle on the Italian Mediterranean shore."

"Haven't you ever seen things in a kind of vision before they really happen?"
"Me? No. Never."
"That's the way I see us both. In a vision - there in Italy! April in this medieval castle!"
Life and love are about to bloom for four London women: Rose - earnestly good but hiding a secret desire; Lottie - full of life and a mischievous streak; Lady Caroline - a stunningly beautiful but jaded debutante; and Mrs. Fisher - a widow who believes her glory days are all behind her. These four ladies find each other and the castle of their dreams for one magical month on the Mediterranean. They seek a much needed antidote to their dreary London cares, and what they find on the Italian shore awakens them to a world of beauty, ardor, and the joys of living. Love and comedy ensue when their husbands and lovers descend on the ladies' heavenly retreat - where passions bloom in the Italian spring!
The Enchanted April, the novel by Elizabeth von Arnim, has previously been the subject of two successful films and a stage play. In the hands of Evans and Leipart, von Arnim's witty and insightful story and colorful characters, full of heart and humour, make for a fabulous Musical Romance!
Presented by Adrienne Arsht -
A 3-Week Workshop of


ENCHANTED APRIL, A Musical Romance


Washington D.C., June, 2013
Directed by Robert Pullen, (Emmy-nominated Director/Producer with the Kennedy Center)
and Co-Director/Choreographer
Stephen Brotebeck,
(PETER AND THE STARCATCHER)
with Music Director Luke Frazier
"by-invitation-only" performances on
June 25 & 26, 2013, @ 2pm
at the Arena Stage's Kogod Cradle Theatre,
Washington, D.C.
---
- Previous events -
Industry Readings of
ENCHANTED APRIL, A Musical Romance
Pearl Studios, New York City,
March 26th and 27th, 2012
Directed by Robert Pullen,
with Music Director Larry Yurman
Featuring
Brent Barrett
(Chicago, Annie Get Your Gun),
Ben Dibble, Rachel Coloff
(Urinetown, Candide, Fiddler on the Roof),
Leslie Flesner
(
Follies, Finian's Rainbow
)
, Amy Goldberger, Joy Hermalyn
(Fiddler on the Roof, La Boheme, Candide
)
,
Florence Lacey
(Follies, Les, Misérables, Hello Dolly),
Rebecca Luker
(Mary Poppins, The Secret Garden, The Music Man),
Jill Paice
(Curtains, The Woman in White, The 39 Steps)
,
Robert Petkoff
(Fiddler on the Roof, Ragtime, Spamalot)
and
Bruce Winant
(La Cage aux Folles, Fiddler on the Roof, Ragtime),
Amos Wolff
(Follies, Chicago)
.
Music Director
Larry Yurman
(On a Clear Day, Grey Gardens, Marie Christine).
ROBERT C. PULLEN, Director – Emmy™ nominated Producer. Producing and directing highlights include President Obama's 2009 Inaugural Swearing-In Ceremony (Aretha Franklin segment); 9/11: Ten Years Later (worldwide on Facebook); Some Enchanted Evening: A Salute to Senator Ted Kennedy with Bill Cosby, Bernadette Peters, President Obama, etc.; A Celebration of Women in the Arts with Lily Tomlin, Patti LaBelle, k.d. lang, etc.; The Art of Film Music with John Williams, Martin Scorsese and Steven Spielberg; President Kennedy Remembered: JFK 50th Anniversary with Yo-Yo Ma, Paul Simon, Lorne Michaels, Diane Sawyer and Mike Nichols.
Television credits include the Mark Twain Prize on PBS for 7 years including Will Ferrell, Tina Fey, Jon Hamm, Chris Rock, Danny DeVito, Green Day, Steve Martin, Bill Cosby, Billy Crystal, Whoopi Goldberg, etc.
Broadway general/company management credits include: The Music Man, Footloose, Chicago, the Musical, Annie Get Your Gun, Titanic, Seussical the Musical, 42nd Street, Blast, and Broadway Salutes Hillary Clinton with Rosie O'Donnell.
---
Previous Industry Readings of ENCHANTED APRIL were presented at NYC's Chelsea Studios, with General Management by Brierpatch Productions. Directed by Annette Jolles, Music Directed by Larry Yurman, the readings were performed to an enthusiastic audience of NY theater producers and professionals, by a stellar Broadway cast:
Jill Paice, Robert Petkoff, Rachel Coloff, Rebecca Luker. Ben Dibble, Amy Goldberger, Michael Marcotte, SuEllen Estey, Lauren Jelencovich, Joy Hermalyn, Joel Briel, and George Dvorsky.
Rebecca Luker and
Amy Goldberger
Jill Paice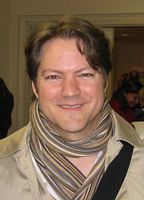 Robert Petkoff
George Dvorsky
SuEllen Estey
Ben Dibble and
Amy Goldberger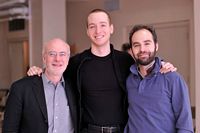 Joy Hermalyn

Music Director: Larry Yurman,
Asst. Music Dir: Paul Staroba,
Violin/Mandolin: Antoine Silverman
Photos by: Robert Petkoff

ENCHANTED APRIL is being commissioned by West Bay Opera, the highly respected opera company based in Palo Alto, California, with General Director Maestro José Luis Moscovich. WBO<http://wbopera.org> is the second oldest opera company in the western United States.
Back to MUSICAL THEATRE