FOR PURCHASE: SONGS, CDs AND BOOKS
This page is in progress - please check back for more entries!
Individual songs, cd's, and books by Richard B. Evans for purchase and delivery or download.
Payment by PayPal or by personal check. Please continue with ordering information for details and instructions.
If you prefer to pay by credit card, please see our book sale page on Amazon.com.
Thank you for your order!


The Well-Prepared Piano ("how-to" manual)


Richard Bunger's definitive manual on how to "prepare" a piano according to John Cage for compositions by John Cage and other composers of prepared piano)without damaging the instrument. The book includes numerous photos, diagrams, drawings, "Checklist for a Basic Preparation Kit", "Where to Obtain Materials", an annotated list of compositions for prepared piano, etc. Foreword by John Cage.

Second American Edition, revised and expanded. 92 pages, ISBN 0-940612-00-3. Limited copies available.

| | |
| --- | --- |
| Orig.: | $95.00 |
| Sale: | $75.00 |



Celtic Airs


A CD of 23 tracks of Irish-based music by Richard B. Evans including Irish airs, W.B. Yeats poetry-based art songs, the McDermott Roes Suite, and selections from "The Playboy of Balyduff", his original Irish musical based on J.M. Synge's "Playboy of the Western World."

$15.00



MIDAS & MARIGOLD, A Timeless Musical Fable


A CD of the Family Operetta: A lonely King wishes only for more gold; his teenage daughter Marigold tends to her rose garden, but aches instead for her father's love. A timeless tale of family love.
Book & Lyrics by 'vid Buttaro and Squire Fridell, Music by Richard B. Evans.

| | |
| --- | --- |
| Orig.: | $15.00 |
| Sale: | $11.50 |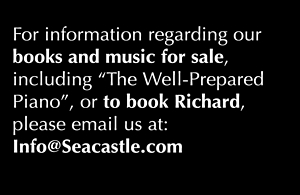 © 2008-2014, Richard B. Evans | All contents of this website © (p) Richard Bunger Evans and Seacastle Music Company