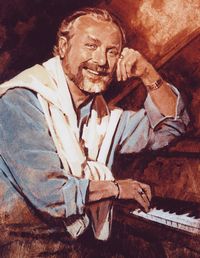 RICHARD BUNGER EVANS is a multi-faceted post-avant-garde composer with a long and richly varied career that includes touring as a concert pianist and lecturer, teaching as an award-winning university professor, as well as his accomplishments as a published author, professional accompanist, recording artist, organist, inventor, and jazz pianist. Evans' work in the avant-garde musical world during the 1970s and 1980s included his work as an editor for John Cage, and performer and proselytizer of Cage's works as well as music by other 20th-Century American composers.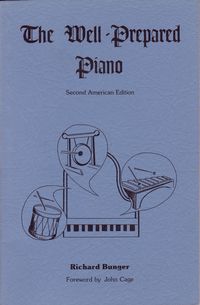 Bunger Evans authored the book The Well-Prepared Piano, the authoritative instructional source for John Cage's controversial multi-timbral piano invention, for purchase here on this website.
---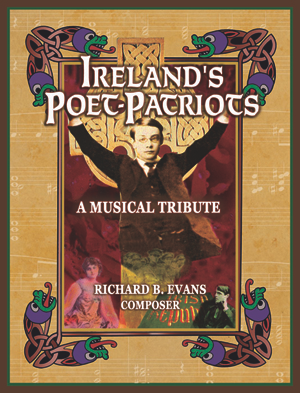 Set for its premiere production in 2016, IRELAND'S POET-PATRIOTS, A Musical Tribute is a full-length concert commemorating the 100th Anniversary of "The Easter Rising" of 1916 – the historic event that sparked independence for Ireland.
Based on the poems and writings of 10 of Ireland's poet-patriots – Robert Emmet, Jeremiah O'Donovan Rossa, William Butler Yeats, Maud Gonne, Ella Young, George William Russell (A.E.), James Connolly, Pádraic Pearse, Peadar Kearney and Francis Ledwidge – the 16 movements of IRELAND'S POET-PATRIOTS reflect events in Irish history from 1603 to 1916 that led directly to the Easter Rising.
Richard B. Evans' musical settings of these inspired writings are a melodic marriage of the rich expressive power of Irish-European classical music styles and the beloved Irish Traditional music of airs, jigs and reels – to illuminate Ireland's history and commemorate this momentous Centenary of 1916. The final choral number is a benediction based on a poem by the Irish mystic poet A.E. titled "Immortality."
Please visit IRELAND'S POET-PATRIOTS website for more information - www.IrelandsPoetPatriots.com
---
Evans' popular compositions include Italian and Irish art songs, chamber works, and choral works that are performed widely.
Evans has received numerous awards, grants and commissions from organizations as diverse as the Rockefeller Foundation, the Board of Trustees of the California State University System, and the Irish Government. He concertized widely in the U.S. and Europe before devoting himself entirely to composing.
Evans' musical theater works include HAMLET'S BIG HOLIDAY, Shakespeare's Lost Musical Comedy; ENCHANTED APRIL, A Musical Romance; THE PRICE OF EVERYTHING, A Musical Vaudeville; THE PLAYBOY OF BALYDUFF, An Irish Musical Comedy; SO NICE TO COME HOME TO, Based on 2 plays by J.M. Barrie (commissioned by the Cinnabar Theater); MIDLIFE! The User's Guide; and THE GOLDEN TOUCH, A Family Musical (commissioned by the International Institute of Vocal Arts). Evans has also composed MIDAS AND MARIGOLD, A Family Opera.
---
EVANS' MUSICAL THEATRE works include -
HAMLET's BIG HOLIDAY
Shakespeare's Lost Musical Comedy!
Music by Richard B. Evans
Book and Lyrics by Howard Ervin

Brought to the stage at last – The Bard's lost musical comedy, with its madcap whirl of surprising twists and sparkling unforgettable songs you'll go home singing!

For more info and demo audio tracks, see the website: www.HamletsBigHoliday.com
Enchanted April -
A Musical Romance
Elizabeth von Arnim's wonderful story The ENCHANTED APRIL is now a fabulous new musical with a musical score, book and lyrics that are intensely personal, gloriously romantic, and a thorough delight for all those who love beautiful singing, soaring melodies, drama, humor — happy endings…and wisteria and sunshine!
Music and orchestrations by
Richard B. Evans
Book and lyrics by Kleban award-winning
Charles Leipart
For more info and demo audio tracks, see the website: www.EnchantedAprilthemusical.com
So Nice To Come Home To
A Musical play based on 2 James M. Barrie plays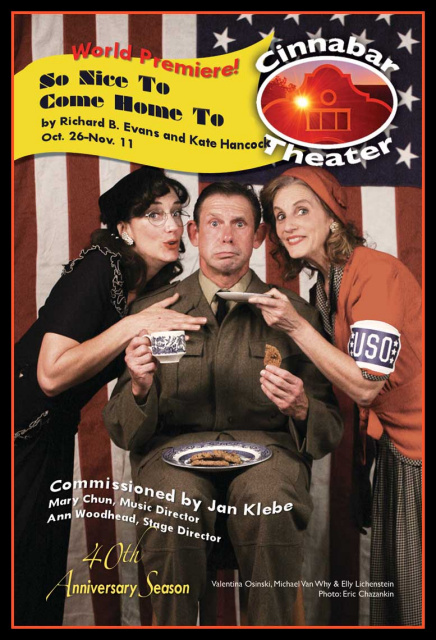 "It's New York City, 1944, a time of innocence and uncertainty, humor and hope, as the stresses of war weigh on soldiers and civilians alike. This touching, sweet, funny, and thought-provoking musical tells the story of a decorated war hero home on leave from the brutal European battlefield, and one middle-aged woman's determination to become an essential part of America's war effort."
Evans' musical - SO NICE TO COME HOME TO premiered in October and November, 2012, at the Cinnabar Theater in Petaluma, CA, commissioned by Cinnabar's Jan Klebe for the theater's 40th Anniversary Season.
Music by Richard B. Evans
Lyrics by Kate Hancock
Book by Evans & Hancock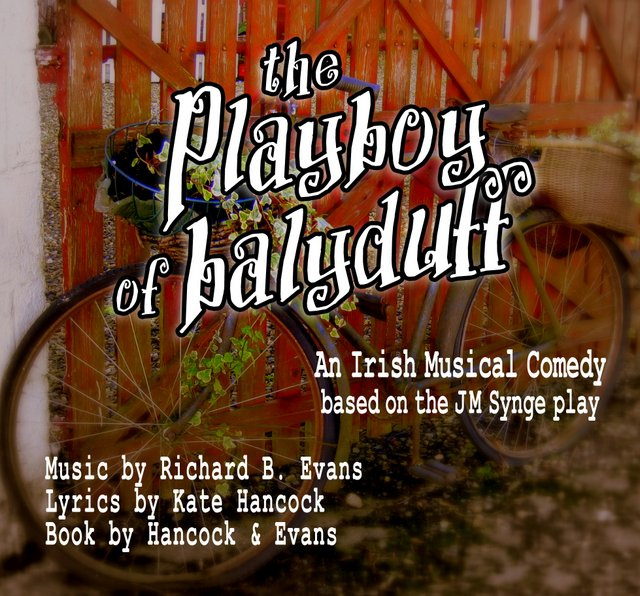 The Playboy of Balyduff -
An Irish Musical Comedy
Life in the village of Balyduff is turned upside down by the sudden appearance of a handsome, mysterious stranger – who claims to have killed his lout of a father! Awed by the audacity of his act, the village embraces – (and curses!) – this courageous and charming new hero, and Christy Mahon is dubbed THE PLAYBOY OF BALYDUFF!!
But is Christy a brave lad done a bold deed, or is his just a tall tale that enthralls this remote Irish village and threatens to change their safe and familiar world forever?
Beware, hero - celebrity has its price!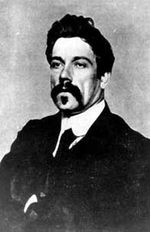 Based on the renowned Irish comedy, The Playboy of the Western World, by John Millington Synge. Inspiring riots at its initial production, this outrageous story has been re-imagined as a riotous and ironic Broadway musical comedy full of laughter, romance, Irish music and dance!

The Chicago Sun Times says: "...This show deserves a thriving future. Along with its ready-made tragicomic story and marvelous characters, it comes with a lovely lyrical score that very skillfully blends traditional Irish melodies and a Broadway sound."
Music by Richard B. Evans, Lyrics by Kate Hancock, Book by Hancock and Evans
The Price of Everything -
A Musical Vaudeville
What could possibly be more timely during the world-wide economic mess of the early 21st Century than to revisit the Robber Barons of New York City's high society of the early 20th Century?
This high-class musical romp stars the famed socio-economist Thorstein Veblen (1857-1929) and his controversial thesis, "The Theory of the Leisure Class" (ever heard the phrase "Conspicuous Consumption"?). Find out how much fun a rotten economy can be when Wall Street battles Main Street!
Book and lyrics by Kleban award-winning Charles Leipart, Music by Richard B. Evans
---
Other works include the genres of -
OPERA & ORATORIO,
ART SONGS,
CELTIC MUSIC,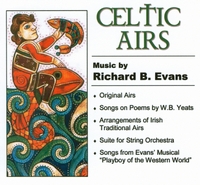 EXPERIMENTAL MUSIC, PREPARED PIANO, JOHN CAGE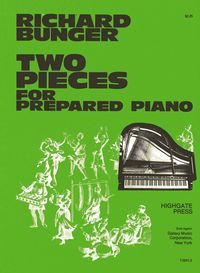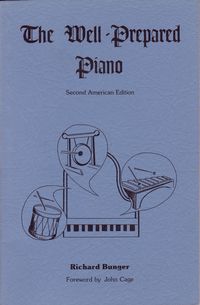 In New York City, Evans' compositions have been performed in venues from LaMaMa to Carnegie Hall, as well as The Broadway Theatre Institute, The Provincetown Playhouse, The Donnell Theatre of the New York Public Library, the York Theatre, the Irish Arts Center, the Manhattan Theatre Club, the BMI Musical Theatre Workshop, and the Theatre at Riverside Church.
Evans and his music have also been heard throughout North America in concerts from San Diego to Toronto, from Oregon to Florida; and in England, Ireland, Scotland, Italy, France, Norway, Germany, Czech Republic, Russia, Cuba, and Greece. Evans' choral setting of the "PLEDGE OF ALLEGIANCE " has been performed by the combined Choir and Concert Band of the U.S. Naval Academy at Annapolis.