THE GOLDEN TOUCH – a fun family pop musical based on the King Midas legend – the story of the King and his daughter Marigold, whose wonderfully "hip" Nursemaid teaches them both life's most important lesson.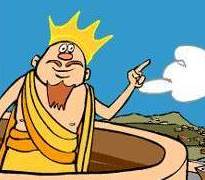 THE GOLDEN TOUCH was commissioned and produced by the International Institute of Vocal Arts, and premiered in the theater at the famed Riverside Church, New York City, in 2001, directed by Dr. Richard Barrett and starring Ashley Bell and Aurelia Williams.
Book & Lyrics by Richard Rodgers Award recipient Maryrose Wood, Music by Richard B. Evans.
PREMIERE PRODUCTION: February 1, 2 and 3, 2001
Theatre at Riverside Church
Produced by The International Institute of Vocal Arts
Directed by Richard Barrett

Drawing by Mark Fiore