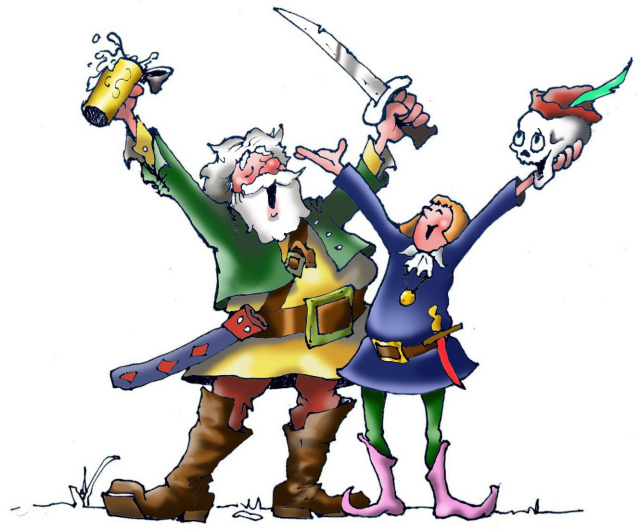 Music by
Richard B. Evans
Book and Lyrics by
Howard Ervin


HAMLET's BIG HOLIDAY
Shakespeare's Lost Musical Comedy!

Brought to the stage at last – The Bard's lost musical comedy, with its madcap whirl of surprising twists and sparkling unforgettable songs you'll go home singing!

Our melancholy Hamlet and his wisecracking sidekick Yorick venture off "on holiday" to Merrie Old England. Who does Hamlet meet at the uproarious Boar's Head Tavern but the larger-than-life Sir Jack Falstaff, the wayward Prince Hal and the tavern's enterprising Mistress Quickly! With a crew like this, can Hamlet ever be the same? And who is this fair and mysterious damsel who calls herself Iphelia? Can Iphelia's charms break through Hamlet's "issues"?
Ever the rogue, Falstaff takes charge of the reticent Hamlet to show him the excitement he's been missing in life, and soon enlists him in a caper to rob the Crown Jewels by disguising themselves – and Yorick – in the tall bearskin hats of the "Big Hat Guards."

Oh, woe is me – their wild escapade fails and all is lost. Really? Is Hamlet still the Prince of Nebbishes with no future, no family and no friends? Look out, Denmark, he's ready to rock and roll! Hamlet's "Goin' Back to Elsinore!" – with Falstaff as his wingman – for an outrageous fortune-filled finale!
For more info and demo audio tracks, including "The Play's The Thing," "Melancholy Me," "Fat City," and more,
go to: www.HamletsBigHoliday.com
Art by Cris Hammond
© 2008-2018, Richard B. Evans | All contents of this website © (p) Richard Bunger Evans and Seacastle Music Company