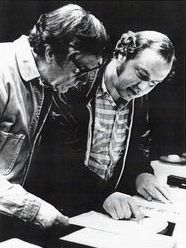 Bunger Evans' association with JOHN CAGE began in 1967, as the "New Music" movement blossomed into a culturally significant and recognized "sound."
(Left) John Cage and Richard Bunger comparing notes in preparation for one of their several joint concerts, at the University of California, Santa Cruz. Bunger Evans and Cage made their last joint appearance in Minneapolis-St. Paul in a celebration of Cage's 70th birthday.
As the pre-eminent authority on John Cage's early music (1938-52) for piano, toy piano, and prepared piano, Bunger Evans was asked by Cage to edit many of these works for publication and to record them for the first time.
From the late 60's through the early 80's, Bunger Evans toured the United States and Europe as a concert pianist/composer/lecturer, the first to exclusively champion the piano music of 20th-century American composers – including such luminaries as Charles Ives and Henry Cowell, John Cage and Mort Subotnick, Harold Budd, Henri Lazarof, Lou Harrison, and many other modern and avant-garde composers up to the 1980s. His programs of "Music of Our Time" – (20th Century American composers) – also included gems such as ragtime pieces by Joseph Lamb, mixed-media pieces such as Cage's WATER MUSIC, theatre pieces, and his own compositions including VARIATIONS ON A THEME BY FIBONACC.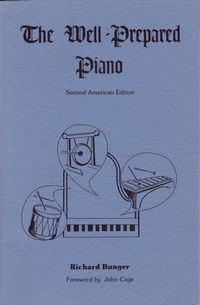 Bunger Evans is the author of THE WELL-PREPARED PIANO, the authoritative source for John Cage's controversial multi-timbral piano invention. Limited copies of the book are available for purchase from this website.
While living in Los Angeles during the 1970s, Bunger Evans was a ubiquitous presence as a composer and performer in the "new music scene" there. He played at the famed Monday Evening Concerts at the Los Angeles Art Museum; presented concerts at every major college and university in Southern California, including UCLA, USC, UCSD, CSLA, CSULB, CSUDH, CSUN, SDSU, Occidental College, etc.; was championed by avant-gardist-of-the-first-order (and editor of Baker's Biographical Dictionary of Musicians) Nicholas Slonimsky; performed at the famed Mermaid Tavern in LA's Topanga Canyon; and performed the Ondes-Martenot part on a ARP2600 synthesizer under Michael Tilson Thomas at the Ojai Music Festival.
Attached here is Bunger's memoir of his first encounter and future work with John Cage.
Bunger also invented THE BUNGERACK to aid pianists in performing modern scores that access the interior of a grand piano, and MUSIGLYPH, a comprehensive performer-oriented notational system by which composers can clearly notate performance techniques that use musical instruments in nontraditional ways.
(Left) Richard Bunger Evans performing John Cage's "Suite for Toy Piano." He was the first pianist to perform and tour with this piece since 1950. The toy piano is a Schoenhut "baby grand," which he carried in his onboard luggage.
Bunger Evans recorded music by 20th-Century American composers for Columbia Masterworks, Musical Heritage Society, Avant Records and Tomato Records, among other labels.
In recognition for his work in this field, he received a grant from the Martha Baird Rockefeller Fund that enabled him to commission a new piano concerto by Olly Wilson, which he performed and recorded with the Baltimore Symphony. A recording of Bunger Evans' performance of this concerto has recently been reissued by the College Music Society in its anthology titled "Black Composers Series."
COMPOSITIONS: NEW MUSIC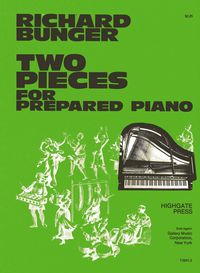 RECORDINGS: NEW MUSIC