RICHARD BUNGER EVANS was born in Allentown, Pennsylvania, educated at Fountain Hill High School, Lafayette College, Oberlin College (Mus.B.) and the University of Illinois (Mus.M.), and the University of Kentucky, Lexington (post graduate). He was a "3-letter man" in high school (Band, Chorus, and Soccer), was awarded scholarships from both his undergraduate colleges, and a Teaching Assistantship for his Masters study. While still finishing his Masters degree he began teaching music as an Assistant Professor at Queens College, Charlotte, North Carolina. After three years at Queens College, he was called back to Oberlin Conservatory to teach Music Theory and Analysis. After a year there, and still in his mid twenties, he accepted the challenge to "go West, young man!" He moved to Los Angeles and, after one year as a successful jazz pianist, accepted a professorship at California State University.

As the culmination of his 17-year career as a professor in academe, Richard was named Statewide Outstanding Professor of the Year for the entire 21-campus California State University System (with a statewide faculty of over 21,000), where he taught music composition, music theory, piano, acoustics, electronic music, audio engineering, and songwriting. He subsequently left the academic world to devote himself fulltime to composing (Musical Theatre, Opera & Oratorio, Irish music, art songs.) Evans has received numerous awards and music commissions, including the Rockefeller Fund and the Irish Government.

Evans is a member of the American Society of Composers Authors and Publishers, an alumnus of the BMI Advanced Musical Theatre Workshop in NYC, a member of the Dramatists Guild, the Dutch Treat Club, and the Irish Arts Center, the American Music Center, and Opera America.
WHO IS RICHARD BUNGER?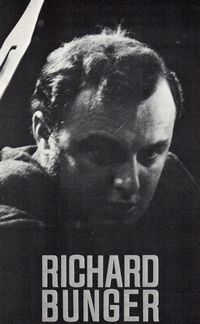 BUNGER EVANS began his musical career under the name Richard Bunger. This period included his years of study; his teaching career in higher education; his concerts and lecture tour; his numerous recordings of new music; publication of his avant-garde musical compositions; the publication of his many articles on 20th Century music; his listing in Baker's Biographical Dictionary of Music & Musicians and the citation of his work in numerous publications about new music; articles he authored for Keyboard Magazine; his invention of the Bungerack; and publication of his book THE WELL-PREPARED PIANO, with Foreword by JOHN CAGE.
In 1983, Bunger added his original surname of "Evans," and his subsequent work has been known under this name including his work in Musical Theatre and Opera & Oratorio.

The cover of an early brochure promoting Richard's concerts of "Piano Music of Our Time."
A few years ago, Richard was having a road-trip conversation with a knowledgeable musician friend who had known Richard for perhaps a dozen years. When the topic somehow turned to John Cage, Richard mentioned that he had authored a book on "prepared piano." His friend retorted immediately "No, you didn't. I have the only book I know of on the subject, THE WELL-PREPARED PIANO, on my bookshelf, and it was definitely written by Richard Bunger." When Richard replied, "Yes, I know. I AM Richard Bunger," his friend nearly drove off the road in shock and surprise. History, unveiled!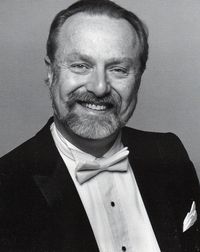 (Right) A more recent publicity photo. Bunger Evans was the first concert pianist to feature an exclusive repertoire of music by 20th-Century American composers.