Music by Richard B. Evans
Lyrics by Kate Hancock

Book by Evans & Hancock
Orchestrations by Richard B. Evans
"It's New York City, 1944, a time of innocence and uncertainty, humor and hope, as the stresses of war weigh on soldiers and civilians alike. This touching, sweet, funny, and thought-provoking musical tells the story of a decorated war hero home on leave from the brutal European battlefield, and one middle-aged woman's determination to become an essential part of America's war effort."
Evans and Hancock's musical, "SO NICE TO COME HOME TO," premiered at the Cinnabar Theater in Petaluma, CA. Commissioned by Cinnabar's Jan Klebe for the theater's 40th Anniversary Season, the production featured Broadway performer Michael McGurk (courtesy of Actor's Equity), along with Elly Lichenstein, Valentina Osinski, Stephen Walsh, Bill Neely, and Michael Van Why. Director: Ann Woodhead, Music Director: Mary Chun
(promotional photo by Eric Chazankin)
Inspired by two plays by James M. Barrie
Elly Lichenstein as Kate Downey
Michael McGurk as 2nd Lieutenant Kenneth Downey
Valentina Osinski as Eleanore Sims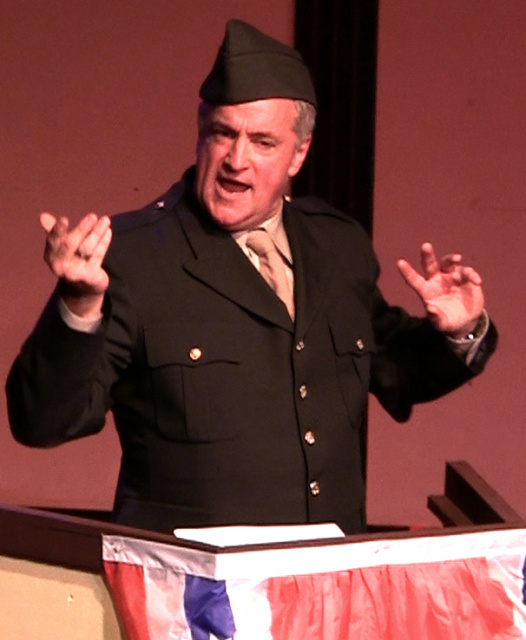 Stephen Walsh as Al O'Donohu
Michael Van Why as Bill Brannigan
Bill Neely as Harry Sims
with Elly Lichenstein as Kate Downey
"Cinnabar's 'So Nice To Come Home To' is an intensely sensitive drama graced with spirit-lifting anthems and bright flashes of musical comedy...a tender valentine to that time and place, and to that Greatest Generation, with a surprising twist to the story that makes it truly unique entertainment. The onstage talent at Cinnabar's production is extraordinary."
Greg and Suzanne Angeo
For All Events
['So Nice To Come Home To']... is a loving homage to the era, with catchy jingles..., a romantic ballad..., a patriotic salute to the women on the home front..., a heartbreaking anti-war ballad... and an outrageous tip of an equally outrageous hat to Carmen Miranda."
Katie Watts, Argus Courier
| | |
| --- | --- |
| MUSICAL NUMBERS: | |
| ACT 1 | |
| 1.1A We'll Never Give Up | (Radio Chorus) |
| 1.1B He's Such a Wonderful Boy! | (Kate, Jean) |
| 1.1C My War, Too | (Kate) |
| 1.1D What Have You Got to Lose? | (Kate, Kenneth) |
| 1.2A The Ladder of Success | (Harry, Jean, Tombs) |
| 1.2B What More Could a Woman Want? | (Jean) |
| 1.2C A Man Has a Right to Know | (Harry, Kate) |
| 1.4A The U.S. Army Band | (Al) |
| 1.4B Rosie the Riveter | (Bill) |
| 1.4C Uncle Sam Wants You | (Al, Bill, Jean) |
| 1.4D We'll Never Give Up | (Al, Bill, Jean, Kenneth) |
| | |
| ACT 2 | |
| 2.1A Heroes | (Kenneth) |
| 2.2A A Million Miles From Nowhere | (Kate) |
| 2.2B What's So Great About NYC? | (Kate, Kenneth, New Yorkers) |
| 2.2C Happy Endings | (Kate, Kenneth) |
| 2.2D The Rainbow Room | (Instrumental) |
| 2.3A Do You Remember? | (Kenneth, Kate, Al, Jean) |
| 2.3B I Will Come Home to You | (Kenneth, Kate) |
| 2.4A Dearest Mama | (Kate, Mailman, Grocer, Kenneth) |
| 2.4B Carmen Miranda | (Jean, Al) |
| 2.4C. Dearest Mama, Part 2 | (Kate, Kenneth, Jean, Al) |
| 2.5A Home To Me | (Kate) |